I had an amazingly FANTASTIC and busy weekend. I worked on both Friday and Saturday and went to the Grand Opening of the new Zula Soundbar. I must say it was truly fantastic! About 2500 people attended the opening over the two days and I believe everyone had a great time. I wasn't fortunate to see the Springbok Nude Girls live, but I met Arno Carstens, so I guess that counts for something…
I did however got to see one of my favourite bands – AKING – on Saturday night. They are one of my favourite South-African bands purely because they make really good music and give a brilliant performance. Altough the sound check took really long (and I mean really!?) the set was worth the wait. I heard that they are not going to Oppikoppi this year…that is really unfortunate for all Oppikoppi ticket holders..haha! That reminds me: Why do they still advertise Oppikoppi everywhere if ALL the tickets are SOLD OUT??? There are none left…That is just torture for those who really wanted to go…
So, back to Zula's opening:
It was good to be in the VIP area all night on Saturday… I got to meet some of the newest, up-coming artists in the country, which was nice. I was also looking into the detail of the venue: The lower dance floor can take up to 450 people, while the upper dance floor can take 750. I think they should not only focus on music in the new Zula, but they can also use the venue for exhibitions, fashion shows, to screen movies etc. There's also a neat cocktail bar (at the entrance) and a mini cafe – where you can order food (the new menu is yet to be launched).
So yeah, overall I think the weekend was a great success for the Zula team and I hope that the Cape Town youngsters will keep on supporting them.
So with Cape Town Fashion Week around the corner, I'm looking for a pretty outfit to wear to the event (if I have TIME to go). When I look for a new outfit, I usually start with shoes and tops. You can pair any cute top with a pair of sexy shoes and you're good to go! Here are some of my favourite shoes:
And then, I love Taylor Momsen's style on Gossip Girl. I think it is glamorous, though a bit dark: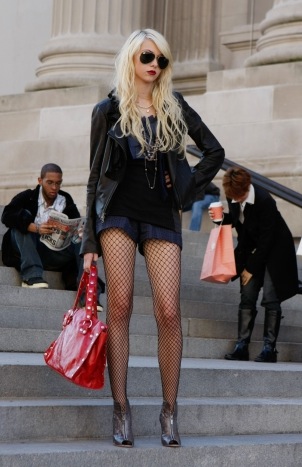 Anyway, I've heard that Sissy Boy just had their shoot for their new campaign Spring/Summer 2011. Although I could only get a sneak peak, it looks really gorgeous. I love Sissy Boy clothes. I must admit that it is the only jeans I have ever tried on, that instantly fit (and boy do they fit!). I love Sissy Boy.
LOVE the shoes below, especially the leopard print ones!
And since it is Turn on Tuesday, here is a pretty girl.
Her name is Caroline West and she is on ELite New York's Development board. She is beautiful and has amazing bone structure. She has not been on the runway a whole lot, but I am sure we will see more of her soon. Go Caroline!
So, if you are a pretty girl or know anyone who is…feel free to send your pics to me.. I will gladly post them. this is turn on Tuesday.
Happiness.
<3x<3
EliANGEL